I love to bring my furry family members along on vacation every time I can. In our house, our dogs truly are members of our family and we enjoy spending our vacations with them when possible. Of course, traveling with dogs isn't for the faint of heart, it can be a little tricky to find pet-friendly resorts and activities! Fortunately, Florida is full of gorgeous dog-friendly beaches. There are many sticks perfect for fetching, and your pupper is sure to love any one of these dog-friendly beaches in Florida. Make sure to add these Florida beaches that allow dogs to your bucket list!
Brohard Paw Park
Brohard is the only dog-friendly Florida beach in the entire county of Sarasoto. This beach opens bright and early, right at 7, and boasts dog (and human!) fresh water showers, as well as fresh drinking water, and other great facilities.
Algiers Beach
Located in Sanibel Florida, Algiers Beach is one of the most popular dog-friendly destinations in the area. Dogs are required to be leashed but it's a gorgeous place to visit nevertheless. Visit the beach after 7:00 pm to enjoy free parking in the area.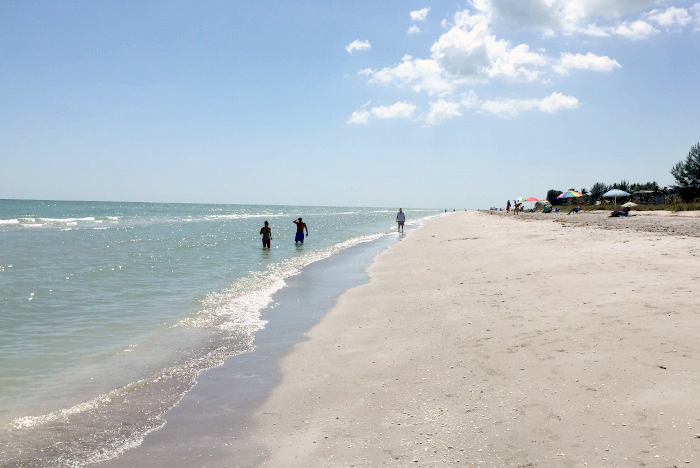 Bonita Beach Dog Park
Though the beach is lacking when it comes to fresh water access, it makes up for it in natural beauty. Dogs can run off leash here, so bring a bright ball and let it fly. There are hours of fun to be held at Bonita Beach, just as long as you remember to bring enough fresh water for your group and your dog.
Fort Clinch State Park
This historic site is sure to be a favorite amongst the history buffs in your family! Located in Fernandina Beach, this beach-side historic relic used to be a fort during the Civil War. The site is perfectly preserved and dogs are welcome just so long as they are well behaved and on a leash. Visitors should also bring bags to remove dog waste from the park. Stay overnight, or just for a few hours, you'll enjoy your time no matter what you choose.
Anne's Beach
The Florida Keys are one of my favorite places on Earth. This tiny beach was ranked as one of the best in all of the Keys, and dogs are more than welcome on this strip of gorgeous sand! Travelers should be warned that the beach was closed at the time of this posting due to hurricane damage cleanup. Be sure to check before heading out!
Flagler Beach
While part of Daytona Beach, Flagler Beach is a little quieter and more removed, perfect for those looking for some quiet time. The town is the coolest place to explore, fit with shopping, a pier, and much more. Dogs are welcome, too!